Newsletters
Building A Better Sound Barrier
Oct 29, 2021
by Alan Zeedyk
OnBoard Newsletter | November 2021
It's Never Too Late to Build a Better Wall Assembly with Sound Protection
Since the pandemic shutdown, commercial and residential renovations have been on the rise. Spaces originally designed for one use have been transformed into others. Many commercial buildings that were repurposed had different and additional code requirements. For most of these transformations, reducing sound was at the top of the checklist.
As our world has become noisier, a better sound barrier is one of the most important environmental elements. Achieving a higher Sound Transmission Class (STC) rating for wall assemblies has become essential. Because without proper sound protection, that multi-million-dollar project has lost a major selling point.
The good news is there's a solution. Even if your walls have already been constructed, it is never too late to decrease airborne sound between existing walls.
SoundBreak XP Retrofit Works Well for Existing Walls
With Gold Bond® SoundBreak XP Retrofit® Board you can do this without tearing out walls, so enhanced sound protection is always an option. Retrofit installs easily over existing gypsum board with no demolition required. It provides a thinner wall assembly without sacrificing square footage. By adding this board to your wall, you can decrease the transmission of airborne sound and increase your STC rating. For more information, visit the SoundBreak XP Retrofit Frequently Asked Questions.

"A customer recently reached out for help on a wall that needed just a few extra STC points to meet the state-required healthcare rating. He wanted a solution that would provide additional STC points without having to expand the wall width very much. By using SoundBreak XP Retrofit Board, he achieved the extra points required to meet code – without having to redo the door frames."
Alan Zeedyk
Alan Zeedyk
Construction Design Manager
National Gypsum Company
Disturb Less, More Quiet
Watch to hear the unwanted noise you can lose with SoundBreak XP Retrofit.
For New Construction, Specify SoundBreak XP Wall Board
You will dramatically reduce sound transmission between rooms or dwelling units with this superior sound-damping gypsum board. You can turn down the volume when you incorporate Gold Bond® SoundBreak XP Wall® Board into your wall assemblies. It finishes easily and decorates the same as standard gypsum board.

Acoustical Terms:
Airborne Sound: Acoustical energy generated by a source and transmitted by vibration through the air.
Sound Transmission Class (STC): A single number rating of the effectiveness of a material or construction assembly to attenuate the transmission of airborne sound.  Partitions with higher STC values are more effective at reducing sound transmission. 

Tips to Increase Sound Protection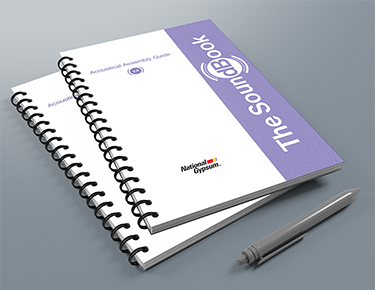 Variables that affect airborne sound transmission between walls include mass, stiffness, damping, cavity depth, and cavity absorptions.

To help reduce sound:
Stagger gypsum board joints from one side of the partition to the other.
Allow a ¼" gap along all wall perimeter edges and completely seal a ¼" gap with acoustical sealant.

Limit necessary wall penetrations to one per stud cavity.

Seal all penetrations with acoustical sealant or putty pads.
Consult The SoundBook® 2.0 for details and sound-rated assembly drawings.
We Can Help Provide Sound Solutions
If you have questions about SoundBreak XP products or want help implementing noise-reduction strategies, contact your National Gypsum Construction Design Manager. We can help you put together a plan to decrease airborne sound transmission.
"A key part of any sound wall is controlling flanking paths. Creating system sound protection means using a non-hardening sound caulk around the perimeters. Altering electrical boxes in wall cavities. Doing the little things can make a huge difference in sound travel."
Thad Goodman
Thad Goodman
Construction Design Manager
National Gypsum Company
Did You Miss Our Webinar on Acoustics?
Watch the "Acoustically Enhanced Gypsum Board for High STC Wall Partitions" webinar, originally broadcast November 2020.
You can also view any of National Gypsum's continuing education webinars here.
Project Profile
Project: Ames High School in Ames, IA
Architect: OPN Architects, Des Moines, IA
General Contractor: Story Construction, Ames, IA
Drywall Subcontractor: HSI Construction, West Des Moines, IA
Dealer/Supplier: Kinzler Construction Services, Ames, IA

With a budget of nearly $140 million, this new state-of-the-art high school in Ames, IA, is scheduled for completion in fall 2023. The impressive 420,000-square-foot facility will replace an existing school, which has been demolished. The project vision was established during meetings with all stakeholders. The school will include special environmental features that address security and safety, natural lighting, and collaborative academic pods.