Submittal Builder
Select Documents
Select Documents
Get started on your submittal
Create complete product submittals utilizing our new easy-to-use system.
Search the product list below based on your project requirements and then select the product document(s) needed for your submittal.
Once the items are selected, they will be available in your shopping cart.
Click on "Your Submittal" in the upper right to make sure you have all the documents you need.
Gold Bond Building
DEXcell FA VSH™ Glass Mat Roof Board
Literature
Submittals
SDS Sheets
HPD
Gold Bond Building
Gold Bond® XP® Gypsum Board
Literature
Submittals
3-Part Guide Specs
Drop-In Specs
SDS Sheets
EPD
UL GREENGUARD Certification
Gold Bond Building
Gold Bond® XP® Fire-Shield® Gypsum Board
Literature
Submittals
3-Part Guide Specs
Drop-In Specs
SDS Sheets
EPD
HPD
UL GREENGUARD Certification
Declare Labels
PermaBASE
PermaBASE WP® Waterproof Cement Board
Literature
Submittals
Drop-In Specs
SDS Sheets
UL GREENGUARD Certification
Gold Bond Building
Gold Bond® XP® Hi-Abuse® Gypsum Board
Literature
Submittals
3-Part Guide Specs
Drop-In Specs
SDS Sheets
HPD
UL GREENGUARD Certification
PermaBASE
PermaBASE CI® Insulated Cement Board
Literature
Submittals
3-Part Guide Specs
Drop-In Specs
SDS Sheets
UL GREENGUARD Certification
ProForm
ProForm® All Purpose Joint Compound
Literature
Submittals
3-Part Guide Specs
SDS Sheets
EPD
HPD
UL GREENGUARD Certification
PermaBASE
PermaBASE UltraBacker® Cement Board
Literature
Submittals
SDS Sheets
UL GREENGUARD Certification
Gold Bond Building
Gold Bond® XP® Hi-Impact® Gypsum Board
Literature
Submittals
3-Part Guide Specs
Drop-In Specs
SDS Sheets
HPD
UL GREENGUARD Certification
PermaBASE
PermaBASE® Cement Board
Literature
Submittals
3-Part Guide Specs
Drop-In Specs
SDS Sheets
EPD
HPD
UL GREENGUARD Certification
Gold Bond Building
Gold Bond® SoundBreak XP Wall® Board
Literature
Submittals
3-Part Guide Specs
Drop-In Specs
Drop-In Specs
SDS Sheets
HPD
UL GREENGUARD Certification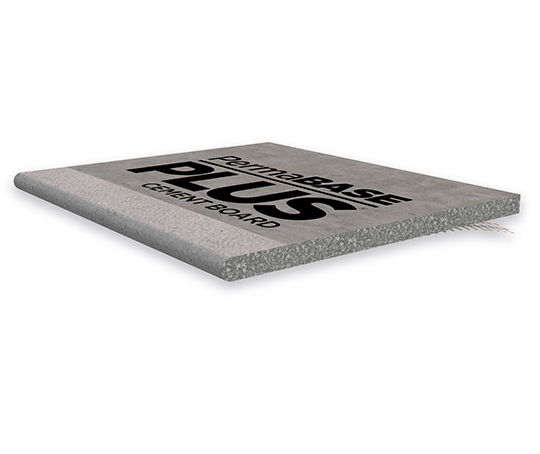 PermaBASE
PermaBASE PLUS® Cement Board
Literature
Submittals
3-Part Guide Specs
Drop-In Specs
SDS Sheets
EPD
UL GREENGUARD Certification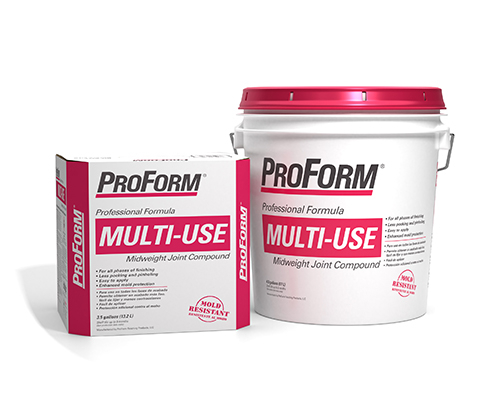 ProForm
ProForm® Multi-Use Joint Compound
Literature
Submittals
3-Part Guide Specs
SDS Sheets
EPD
HPD
UL GREENGUARD Certification
Gold Bond Building
Gold Bond® eXP® Interior Extreme® AR Gypsum Panel
Literature
Submittals
3-Part Guide Specs
Drop-In Specs
SDS Sheets
HPD
UL GREENGUARD Certification
ProForm
ProForm® Lite Blue™ Joint Compound
Literature
Submittals
3-Part Guide Specs
SDS Sheets
EPD
HPD
UL GREENGUARD Certification
ProForm
ProForm® Quick Set Lite™ Setting Compound
Literature
Submittals
3-Part Guide Specs
SDS Sheets
EPD
HPD
UL GREENGUARD Certification
Gold Bond Building
Gold Bond® eXP® Interior Extreme® Gypsum Panel
Literature
Submittals
3-Part Guide Specs
SDS Sheets
HPD
UL GREENGUARD Certification
Gold Bond Building
Gold Bond® eXP® Interior Extreme® Fire-Shield® Gypsum Panel
Literature
Submittals
3-Part Guide Specs
SDS Sheets
HPD
UL GREENGUARD Certification
Gold Bond Building
1/2" Gold Bond® eXP® Interior Extreme® Fire-Shield C™ Gypsum Panel
Literature
Submittals
3-Part Guide Specs
SDS Sheets
HPD
UL GREENGUARD Certification
Gold Bond Building
5/8" Gold Bond® eXP® Interior Extreme® Fire-Shield C™ Gypsum Panel
Literature
Submittals
3-Part Guide Specs
SDS Sheets
HPD
UL GREENGUARD Certification
Gold Bond Building
Gold Bond® eXP® Interior Extreme® IR Gypsum Panel
Literature
Submittals
3-Part Guide Specs
SDS Sheets
HPD
UL GREENGUARD Certification
PermaBASE
PermaBASE™ Foam Tile Backer
Literature
Submittals
SDS Sheets
ProForm
ProForm® Ultra Lite® All Purpose Joint Compound
Submittals
3-Part Guide Specs
SDS Sheets
EPD
HPD
UL GREENGUARD Certification
Gold Bond Building
Gold Bond® eXP® Sheathing
Literature
Submittals
3-Part Guide Specs
SDS Sheets
EPD
HPD
UL GREENGUARD Certification
PermaBASE
DEXcell® Cement Roof Board
Literature
Submittals
3-Part Guide Specs
SDS Sheets
HPD
UL GREENGUARD Certification
ProForm
ProForm® Lite Joint Compound
Literature
Submittals
3-Part Guide Specs
SDS Sheets
EPD
HPD
UL GREENGUARD Certification
Gold Bond Building
Gold Bond® eXP® Fire-Shield® Sheathing
Literature
Submittals
3-Part Guide Specs
SDS Sheets
EPD
HPD
UL GREENGUARD Certification
ProForm
ProForm® Lite Blue™ with Dust-Tech® Joint Compound
Literature
Submittals
3-Part Guide Specs
SDS Sheets
EPD
HPD
UL GREENGUARD Certification
Gold Bond Building
Gold Bond® Shaftliner XP®
Literature
Submittals
3-Part Guide Specs
Drop-In Specs
SDS Sheets
HPD
UL GREENGUARD Certification
PermaBASE
PermaBASE™ Cement Board Tape
Literature
Submittals
PermaBASE
PermaBASE™ Cement Board Screws
Literature
Submittals
ProForm
ProForm® All Purpose with Dust-Tech® Joint Compound
Literature
Submittals
3-Part Guide Specs
SDS Sheets
EPD
HPD
UL GREENGUARD Certification
Gold Bond Building
Gold Bond® eXP® Shaftliner
Literature
Submittals
3-Part Guide Specs
Drop-In Specs
SDS Sheets
EPD
HPD
UL GREENGUARD Certification
ProForm
ProForm® Concrete Cover Joint Compound
Literature
Submittals
3-Part Guide Specs
SDS Sheets
EPD
HPD
UL GREENGUARD Certification
Gold Bond Building
Gold Bond® High Strength LITE® Gypsum Board
Literature
Submittals
3-Part Guide Specs
SDS Sheets
UL GREENGUARD Certification
ProForm
ProForm® Topping Joint Compound
Literature
Submittals
3-Part Guide Specs
SDS Sheets
EPD
HPD
UL GREENGUARD Certification
Gold Bond Building
Gold Bond® Fire-Shield® Gypsum Board
Literature
Submittals
3-Part Guide Specs
Drop-In Specs
SDS Sheets
SDS Sheets
EPD
HPD
UL GREENGUARD Certification
Gold Bond Building
Gold Bond® Gypsum Board
Submittals
3-Part Guide Specs
SDS Sheets
UL GREENGUARD Certification
ProForm
ProForm® Taping Lite Joint Compound
Literature
Submittals
3-Part Guide Specs
SDS Sheets
EPD
HPD
UL GREENGUARD Certification
Gold Bond Building
1/2" Gold Bond® Fire-Shield C™ Gypsum Board
Literature
Submittals
3-Part Guide Specs
SDS Sheets
HPD
UL GREENGUARD Certification
Gold Bond Building
5/8" Gold Bond® Fire-Shield C™ Gypsum Board
Literature
Submittals
3-Part Guide Specs
SDS Sheets
HPD
UL GREENGUARD Certification
Gold Bond Building
Gold Bond® eXP® Fire-Shield® Tile Backer
Literature
Submittals
3-Part Guide Specs
Drop-In Specs
SDS Sheets
HPD
UL GREENGUARD Certification
ProForm
ProForm® All Purpose Orange Joint Compound
Literature
3-Part Guide Specs
SDS Sheets
EPD
HPD
UL GREENGUARD Certification
Gold Bond Building
Gold Bond® High Strength Fire-Shield 60® Gypsum Board
Literature
Submittals
3-Part Guide Specs
Drop-In Specs
SDS Sheets
HPD
UL GREENGUARD Certification
Declare Labels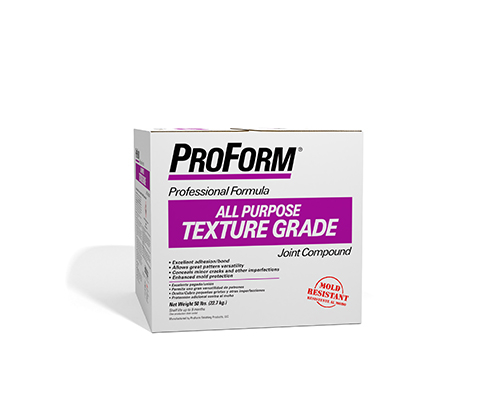 ProForm
ProForm® All Purpose Texture Grade Joint Compound
Literature
Submittals
3-Part Guide Specs
SDS Sheets
EPD
HPD
UL GREENGUARD Certification
Gold Bond Building
Gold Bond® Kal-Kore® LITE Plaster Base
Literature
Submittals
3-Part Guide Specs
SDS Sheets
ProForm
ProForm® All Purpose Machine Grade Joint Compound
Literature
Submittals
3-Part Guide Specs
SDS Sheets
EPD
HPD
UL GREENGUARD Certification
Gold Bond Building
Gold Bond® Kal-Kore® Fire-Shield® Plaster Base
Literature
Submittals
3-Part Guide Specs
Drop-In Specs
SDS Sheets
HPD
UL GREENGUARD Certification
ProForm
ProForm® All Purpose Heavy Viscosity Joint Compound
Literature
Submittals
3-Part Guide Specs
SDS Sheets
EPD
HPD
Gold Bond Building
Gold Bond® Gridstone® Gypsum Ceiling Panels
Literature
Submittals
3-Part Guide Specs
SDS Sheets
UL GREENGUARD Certification
ProForm
ProForm® FasTrack® Plus Setting Compound
Literature
Submittals
3-Part Guide Specs
SDS Sheets
EPD
UL GREENGUARD Certification
Gold Bond Building
Gold Bond® Durasan® Prefinished Gypsum Board
Literature
Submittals
3-Part Guide Specs
SDS Sheets
ProForm
ProForm® FasTrack® Setting Compound
Literature
Submittals
3-Part Guide Specs
SDS Sheets
EPD
HPD
UL GREENGUARD Certification
Gold Bond Building
Gold Bond® SoundBreak XP Ceiling® Board
Literature
Submittals
3-Part Guide Specs
SDS Sheets
UL GREENGUARD Certification
ProForm
ProForm® Quick Set™ Fire and Smoke Stop 90 Setting Compound
Literature
Submittals
3-Part Guide Specs
SDS Sheets
HPD
Gold Bond Building
Gold Bond® SoundBreak XP Retrofit® Board
Literature
Submittals
3-Part Guide Specs
Drop-In Specs
SDS Sheets
UL GREENGUARD Certification
ProForm
Easy Finish® Joint Compound
Literature
Submittals
SDS Sheets
EPD
HPD
UL GREENGUARD Certification
Gold Bond Building
Gold Bond® XP® Fire-Shield® Radius Gypsum Board
Literature
Submittals
3-Part Guide Specs
Drop-In Specs
SDS Sheets
UL GREENGUARD Certification
Gold Bond Building
1/2" Gold Bond® XP® Fire-Shield C™ Gypsum Board
Literature
Submittals
3-Part Guide Specs
SDS Sheets
HPD
UL GREENGUARD Certification
ProForm
ProForm® Perfect Spray® EM
Literature
Submittals
3-Part Guide Specs
SDS Sheets
EPD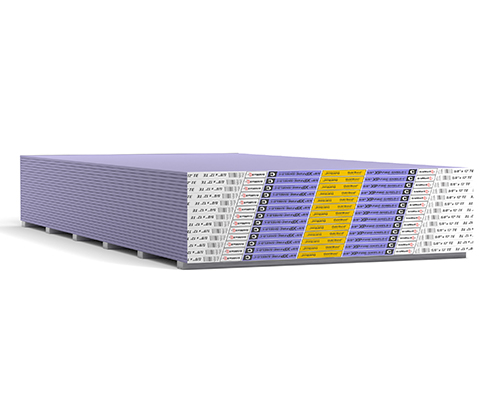 Gold Bond Building
5/8" Gold Bond® XP® Fire-Shield C™ Gypsum Board
Literature
Submittals
3-Part Guide Specs
Drop-In Specs
SDS Sheets
HPD
UL GREENGUARD Certification
ProForm
ProForm® Wall & Ceiling Spray
Literature
Submittals
3-Part Guide Specs
SDS Sheets
EPD
Gold Bond Building
Gold Bond® Gridstone® CleanRoom Ceiling Panels
Literature
Submittals
3-Part Guide Specs
SDS Sheets
UL GREENGUARD Certification
ProForm
ProForm® Factory Built Housing Texture Grade Ready Mix Compound
Literature
Submittals
3-Part Guide Specs
SDS Sheets
EPD
HPD
Gold Bond Building
Gold Bond® Gridstone® Hi-Strength Ceiling Panels
Literature
Submittals
3-Part Guide Specs
SDS Sheets
UL GREENGUARD Certification
ProForm
ProForm® Paper Joint Tape
Literature
Submittals
3-Part Guide Specs
SDS Sheets
HPD
UL GREENGUARD Certification
ProForm
ProForm® Lite with Dust-Tech®
Literature
Submittals
3-Part Guide Specs
SDS Sheets
EPD
HPD
UL GREENGUARD Certification
Gold Bond Building
Gold Bond® High Flex® Gypsum Board
Literature
Submittals
3-Part Guide Specs
Drop-In Specs
SDS Sheets
UL GREENGUARD Certification
Gold Bond Building
Gold Bond® High Strength Fire-Shield 30® Gypsum Board
Literature
Submittals
3-Part Guide Specs
Drop-In Specs
SDS Sheets
HPD
UL GREENGUARD Certification
Gold Bond Building
1/2" Gold Bond® Kal-Kore® Fire-Shield C™ Plaster Base
Literature
Submittals
SDS Sheets
UL GREENGUARD Certification
Gold Bond Building
5/8" Gold Bond® Kal-Kore® Fire-Shield C™ Plaster Base
Literature
Submittals
3-Part Guide Specs
SDS Sheets
HPD
Gold Bond Building
Gold Bond® Kal-Kore® Plaster Base
Literature
Submittals
3-Part Guide Specs
SDS Sheets
UL GREENGUARD Certification
Gold Bond Building
Gold Bond® Ultra-Shield FS® Gypsum Board
Literature
Submittals
3-Part Guide Specs
SDS Sheets
UL GREENGUARD Certification
Gold Bond Building
Gold Bond® XP® Ultra-Shield FS® Gypsum Board
Literature
Submittals
3-Part Guide Specs
Drop-In Specs
SDS Sheets
UL GREENGUARD Certification
Gold Bond Building
Gold Bond® Seaspray Hi-Strength MVR® Ceiling Panels
Literature
3-Part Guide Specs
SDS Sheets
UL GREENGUARD Certification
Gold Bond Building
Gold Bond® Durabase® Gypsum Board
Literature
3-Part Guide Specs
SDS Sheets
Gold Bond Building
Gold Bond® Ceiling Board
Literature
Submittals
SDS Sheets
UL GREENGUARD Certification
Gold Bond Building
Gold Bond® Uni-Kal® Veneer Plaster
Literature
Submittals
3-Part Guide Specs
SDS Sheets
Gold Bond Building
Gold Bond® X-KALibur® Extended Set Veneer Plaster
Literature
Submittals
3-Part Guide Specs
SDS Sheets
Gold Bond Building
Gold Bond® Gypsolite® Plaster
Literature
Submittals
3-Part Guide Specs
SDS Sheets
Gold Bond Building
Gold Bond® Kal-Kote® Basecoat Plaster
Literature
Submittals
3-Part Guide Specs
SDS Sheets
Gold Bond Building
Gold Bond® Kal-Kote® Smooth Finish Plaster
Literature
Submittals
3-Part Guide Specs
SDS Sheets
Gold Bond Building
Gold Bond® Kal-Kote® Texture Finish Plaster
Literature
Submittals
3-Part Guide Specs
SDS Sheets
Gold Bond Building
Gold Bond® Super-White Gauging Plaster Quick Set
Literature
3-Part Guide Specs
SDS Sheets
Gold Bond Building
Gold Bond® Super-White Gauging Plaster Slow Set
Literature
3-Part Guide Specs
SDS Sheets
Gold Bond Building
Gold Bond® Super-White Moulding Plaster
Literature
3-Part Guide Specs
SDS Sheets
Gold Bond Building
Gold Bond® Two-Way Hardwall Plaster
Literature
Submittals
3-Part Guide Specs
SDS Sheets
Gold Bond Building
Gold Bond® Foil Back Gypsum Board
Submittals
3-Part Guide Specs
SDS Sheets
UL GREENGUARD Certification
Gold Bond Building
Gold Bond® Kal-Mesh® Veneer Plaster Tape
Literature
Gold Bond Building
DEXcell FA™ Glass Mat Roof Board
Literature
Submittals
3-Part Guide Specs
SDS Sheets
HPD
Gold Bond Building
DEXcell® Glass Mat Roof Board
Literature
Submittals
3-Part Guide Specs
SDS Sheets
HPD
UL GREENGUARD Certification