Newsletters
Keep the Cold Out and the Warmth In with PermaBase® BRAND CI Insulated Cement Board™
Dec 1, 2019
by Pat Grotlisch
OnBoard Newsletter | December 2019
Yes, Virginia, there is a Santa Claus, and he would recommend a product everyone can agree on: PermaBase® BRAND CI Insulated Cement Board™. A win-win for architects and contractors alike, it's sure to bring peace to your project jobsite. And with the cold winter months ahead, PermaBase® BRAND CI will keep all the warmth inside the walls.

While contributing to Energy Code compliance and providing NFPA 285 approvals, PermaBase® BRAND CI is a composite insulated cement board that combines the strength and features of PermaBase® Cement Board with rigid insulation to create an ideal substrate for exterior finishes.

Continuous insulation moderates temperatures inside the wall cavity, reducing the potential for convective heat loss and increasing the insulation value of the wall system.

Not all insulations are created equal. Less efficient solutions require more thickness of insulation material to achieve the same R-Value as PermaBase® CI.

PermaBase® CI is a great product to specify for residential, multi-family and low-rise commercial applications. It will help lower utility costs, provide better thermal comfort and reduce the likelihood of trapped moisture over conventional construction.

According to Tony Fuller, Product Manager – Cement Board, the demand for improved thermal efficiency continues to rise and PermaBase CI is well-positioned to deliver outstanding performance in a cost-effective solution.
PermaBase® CI Insulated Cement Board™ is: Easy to Specify and Performs Well
Details are readily available, taking the guesswork out of your project and lightening your specification work load.
Made with PermaBase® BRAND Cement Board and high-density polyiso insulation, it provides durability and highly efficient insulation in one convenient package.
It is mold resistant.
It has GREENGUARD Gold certification for low chemical emissions.
Contractor Friendly
Lighter weight, this board saves time and is easier to maneuver. It weighs 2.4 lbs. per square foot versus the 2.9 lbs. per square foot of PermaBase® Cement Board.
Installs quickly, so your team will save time and labor – no need to install separate insulation and cement board solutions.
Manufactured in convenient 2-inch overall thickness, this board utilizes common trims and accessories.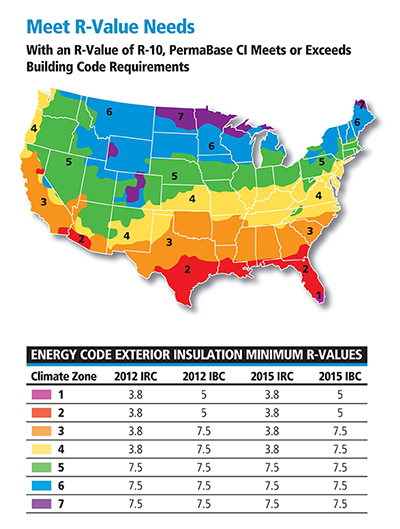 Meets and Exceeds Energy Code Requirements for Framed Construction
Performs well in all seven U.S. climate zones.
It is laminated with an R-10 Insulation.
It meets all compliance for buildings of Types I-IV construction.
It is International Energy Conservation Code (IECC) compliant per IECC section C402.1 and C402.1.3.
It is the single substrate you'll need for NFPA 285 Assemblies.
Works for any finish, including adhered veneer finishes, such as manufactured and natural stone, thin brick and tile as well as direct-applied coatings of synthetic stucco.
More Questions About PermaBase® CI?
Call or email your Construction Design Manager for assistance – our team is here to help you design and build better.
(P.S. Put PermaBase® CI at the top of your list and maybe the big bearded guy can deliver some for your next project?)
"National Gypsum Company developed PermaBase® CI in response to the IECC. The code establishes a baseline for energy efficiency by setting performance standards for the building envelope. PermaBase® CI meets or exceeds the building code requirements with an R-value of R-10."
Pat Grotlisch
Pat Grotlisch
Construction Design Manager
National Gypsum