Newsletters
Learn More About "Frozen Music" and Acoustics
Aug 11, 2022
by Bob Menchetti
Testing Services Update | August 2022
Architect Louis Sullivan once said, "Architecture is Frozen Music." In this issue, we take a look at an iconic building he designed here in Buffalo. In addition to Sullivan, Buffalo is blessed with multiple buildings designed by famous architects such as Richardson, Wright, and several others, as well as extensive parks and parkways designed by Olmsted and Vaux.
We also review building acoustics as it relates to music and Art Deco architecture, both of which provide acoustical challenges, and have led to technical advances in acoustics. Related to this subject matter, we include a technical article on sound absorption and how Noise Reduction Coefficient (NRC) is calculated, which is utilized in evaluating building acoustical materials.
Returning to the theme of architecture and Art Deco, we have examples of Art Deco buildings in Buffalo, which has a surprising concentration of this architectural style. This may be of interest to you for exploring when visiting our laboratory.
We also focus on our vertical wall fire test furnace, one of the best in the industry, and explain how we use this furnace to test much more than walls. In addition, there is an article relating to our complete suite of abuse and impact resistance test capabilities.
Finally, we discuss our new website. We hope it serves as a valuable reference for the wide range of tests on our menu.
As we quickly move into the second half of the year, it reminds me that time flies, and it appears to be flying faster and faster. Thank you for being our client, or for considering using our services, for your testing needs. Have a great second half of 2022!

Great Architecture, Art Deco and Acoustics
Examples of "frozen music" are in abundance in Buffalo, including Sullivan's own iconic Guaranty Building, one of the first skyscrapers ever built. Constructed in 1895, his example of "frozen music" in this case has significant terracotta exterior and an ornate lobby.
Another example of "frozen music" is Buffalo's Central Terminal where Art Deco met acoustical innovation. In the early 1900s, large voluminous spaces were being designed into buildings. A technique of constructing thin-shelled or "timbrel" vaults often was used for structural strength. That presented a problem acoustically. The vault curvature, along with the large enclosure volume and highly reflective nature of tiles, created an unacceptable acoustic environment due to reverberation and focusing.
Raphael Guastavino realized this and decided to contact Wallace Sabine to help remedy the situation. A collaboration was forged. They believed the porosity of the tile was the key to the situation and it could be improved to add sound absorptive properties. A technique of increasing the porosity of these tiles was developed that led to an increased sound absorptivity.
A patent resulted for these newly developed "Rumford Tiles". Installation of these tiles in various projects proved quite successful. This tile was used extensively in the Art Deco style of architecture, which was gaining in popularity at that time. This success prompted the development of an "artificial stone" tile that surpassed the absorptive power of the "Rumford Tile". They again succeeded and the result was the "Akoustolith Tile", which they also patented. Both "Rumford Tile" and "Akoustolith Tile" were a great success and were installed in many new buildings in the 1920s and 1930s.

These tiles had the best of both worlds. They were structurally strong, but at the same time, they were able to control space reverberation due to their ability to absorb sound. The Buffalo Central Terminal was designed and built at the height of the Art Deco craze. The Central Terminal ended up being the largest installation of Akoustolith Tile ever completed by the Guastavino Company.

Some architecture or "frozen music" relates directly to music, such as Buffalo's Kleinhans Music Hall. Leo Beranek has ranked Kleinhans Music Hall as among the best 60 music halls in the world, and one of a half-dozen important halls that were built between 1900 and 1950. It is a true acoustic gem in both Buffalo and North America.

It is a fan-shaped, low reverberation hall that is characterized as a "Hi-Fi Hall". Leo Beranek once said, "Listening there is rather like listening to a very fine FM Stereophonic reproducing system in a carpeted room". It's the opinion of the music and acoustical community that the sound played from Kleinhans stage is characterized by clarity, directness, and non-reverberant nature.
The hall was dedicated in 1940. The designer was the renowned Eliel Saarinen, the architects were F.J. and W.A. Kidd, and its main acoustical consultant was C.C. Potwin, with input from both Paul Sabine and Leopold Stakowski (conductor of the Philadelphia Orchestra). It has a capacity of approximately 2,800 seats. It is home to the Buffalo Philharmonic Orchestra but has hosted a wide range of artists.

While we are discussing Art Deco, many of Buffalo's iconic architectural buildings reflect the Art Deco style. In fact, Lonely Planet, the travel website, lauds Buffalo as one of the top 11 Art Deco destinations in the world. A visit to NGC Testing Services will provide the opportunity to experience one of North America's largest acoustical laboratories, but also experience the "frozen music" of Buffalo. In fact, Lonely Planet, the travel website, lauds Buffalo as one of the top 11 Art Deco destinations in the world. A visit to NGC Testing Services will provide the opportunity to experience one of North America's largest acoustical laboratories, but also experience the "frozen music" of Buffalo. Some additional examples of Art Deco in Buffalo are Buffalo's City Hall followed by the Rand Building, the Electric Tower, the Industrial Bank Building, and a selection of other local buildings exhibiting this style of architecture.

Examining How Materials Absorb Sound: Noise Reduction Coefficient
When sound interacts with any material, it can be either reflected, transmitted or absorbed. The measure of how well a material absorbs sound is called the "Noise Reduction Coefficient" or NRC. ASTM defines NRC as a single-number rating, the average, rounded to the nearest 0.05, of the sound absorption coefficients of material for the four 1/3-octave test frequency bands at 250, 500, 100, and 2000 Hz.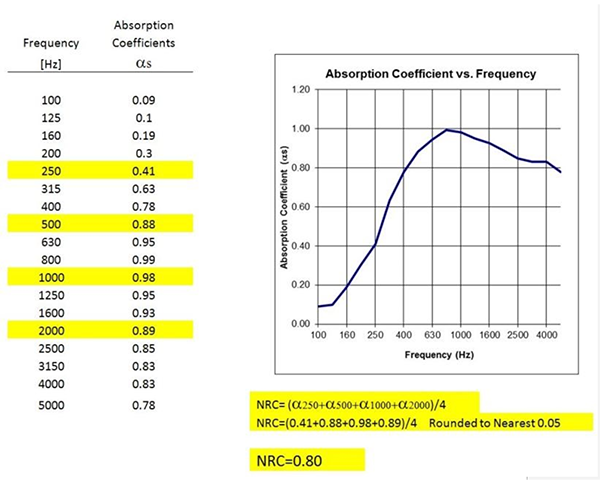 The absorption coefficients are measured according to ASTM Test Method C423. This entails measuring the time required for the sound field to decay 60 dB (decibels) in a reverberation room. Using the sabine equation, the absorption of the Room — both with and without a 72-square-foot test sample — can be calculated. The difference in the absorptions between the sample phase and empty room phase is the absorption of the sample per square foot. This is called the absorption coefficient.

The sabine equation proves there is a relationship between the quality of acoustics, the size of the chamber, and the amount of absorption surface present. Reverberation time is the most important characteristic to gauge the acoustical quality of a room.

The unit of measured absorption is the sabin, named in honor of Wallace Sabine (1868-1919). He developed the sabine equation, and is considered "the father of architectural acoustics." An American physicist, Sabine graduated from Ohio State University at age 18, completing his graduate studies at Harvard University and then continuing his tenure there as a faculty member.

Wall Fire Test Furnace: Not Just for Testing Walls
Our full-scale vertical wall panel furnace and supporting facility layout is one of the best.
10' x 10' test assembly
9 internal furnace thermocouples
56 gas burners
65 thermocouples, option to add an additional 230 thermocouples if needed
Axial loading capability of up to 110,000 lbs
Hose stream test capabilities to test the longest and highest-pressure hose stream requirements including 45 PSI for 5 minutes
3 test frames are available for constructing and preparing multiple test assemblies
12 ton overhead trolly moves the test frames between storage, construction, test furnace and adjacent hose stream test positions
Over 2,600 fire tests have been conducted in this furnace
The wall test furnace is not just for testing walls. This furnace is also used for testing multiple vertical assemblies including:
Doors & Windows
Expansion joints
Utility penetrations
Electrical boxes
Transit car sections
Fire curtains
Vertical structural framing
Jet runways
Glass wall assemblies
Head of wall assemblies
Door hardware
Storage enclosure assemblies
Shaft enclosure assemblies
Exterior sheathing/finishes

Sandwich panels
Glass
A selection of the test standards which can be conducted in the wall test furnace:
ASTM E119 - Fire tests of building construction and materials (UL 263, UBC 7-1, NFPA 251, CAN/ULC-S101)
ASTM E814 - Through penetration fire stops (UL 1479, UBC 7-5, ULC-S115)
NFPA 130 - Fixed guideway transit systems
NFPA 252 - Fire tests of door assemblies including positive pressure (UL 10 A-B-C, ASTM E152, UBC 7-2, UBC 7-3)
NFPA 257 - Fire tests of window assemblies (UL 9, ASTM E163, UBC 7-4)
NFPA 415 - Tests of flexible closures (airport loading walkways)
UBC 26-2 - Thermal barriers
UL 2079 - Tests for fire resistance of building joint systems (ASTM E1966)
Classifications for Abuse-Resistance & Impact-Resistance
In accordance with ASTM C1629, standard classification for abuse resistant nondecorated interior gypsum panel products and fiber-reinforced cement panels, laboratory tests are conducted to simulate typical wear that these types of products might experience in field applications. Product samples are subjected to four different damaging forces on specially designed test equipment. ASTM C1629 provides three classification levels in each of four different categories. NGC Testing Services conducts the full range of ASTM C1629 test.